This page was exported from Best Brothers Group of Companies - Automatic doors specialist [ https://bestbrothersgroup.com ]
Export date: Wed Jul 17 10:52:11 2019 / +0000 GMT


2B.3 SLIDING DOOR LOCKING DEVICE Sliding Devices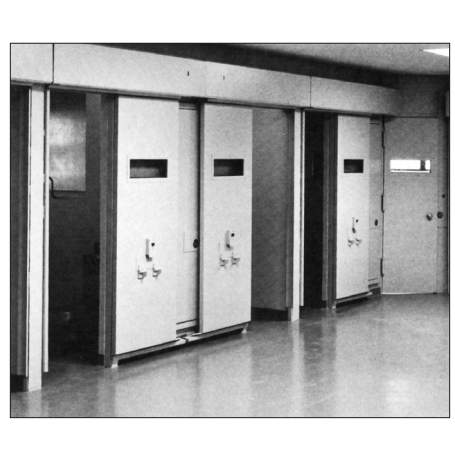 SKU: 2B-3
Product Categories: Sliding Doors
Product Page: https://bestbrothersgroup.com/product/2b-3-sliding-door-locking-device-sliding-devices/
Product Summary
Unit unlocks, opens and deadlocks
open, or closes and deadlocks closed,
pre-selected individual doors or door
groups, via optional electric controls.
Gang release is by mechanical release
cabinet.
Door movement may be stopped in
mid-travel. The door is not freewheeling
in the electrical mode.
Pressure exerted by a door in travel is
factory set at approximately 40 pounds.
Force is adjustable between 20 and 50
pounds.
Direction of travel of any individual or
selected group of doors may be
reversed without interrupting the
operation of other doors.
When a single door is blocked, there is
no interruption in the operation of any
other door in the group. On removal of
the blockage, the door will automatically
continue movement to the open or
closed position.
In event of emergency or power failure,
any door may be unlocked manually at
the door, and moved by hand without
changing the locked status of any other
doors.
In event of power failure, doors may be
manually opened or closed by sliding
the door
Product Description
 Description______________
Type 2B.3 locking devices are high
security, motorized sliding cell door
operating and locking systems for use
with any doors not exceeding 300
pounds.
 Applications_____________
2B.3 devices are applicable to any
multiple cell or inmate room door
situation. Optional controls provide
selective operation of single or groups
of doors simultaneously.
Product added date: 2017-06-26 23:01:08
Product modified date: 2017-06-26 23:01:08
Product export as MS Document by WooCommerce PDF & Print plugin.